Back
Higher Ed
Oakland Public Education Fund Uses FormAssembly to Kickstart Volunteer Forms, Education Grants, and More
Case Study Snapshot
The Oakland Public Education Fund is an umbrella organization that manages funds, handles details like human resources and payroll, and provides assistance with hiring and benefits for its partner schools and educational organizations throughout Oakland. In addition, the organization runs a variety of small in-house programs, donation drives, and other incentives. To facilitate a substantial amount of incoming data and volunteer forms, the Oakland Public Education Fund has turned to FormAssembly for its ease of use and limitless connectivity.
About
The Oakland Public Education fund works with the Oakland Unified School District through a primary business model of fiscal sponsorship.
Facilitates education grants for other organizations in the Ed Fund to better facilitate areas like finance and human resources legalities.
Programs support all Oakland-area schools (district-run and charter) with an emphasis on students from low-opportunity backgrounds.
The Numbers
30+
live forms in different capacities
9,000
expense submissions collected yearly
$60 million
raised in the last 5 years
The need
Connectivity & Integration
Although the Oakland Public Education Fund was implementing FormAssembly before Nathan Bellet came on board, the need for connected data was longstanding. With so many partners and community stakeholders, the Ed Fund required a means to collect and use secure, organized data in real-time. Not only did the Ed Fund need fully-integrated web forms for large scale projects, staff members also needed a web form platform that would work for smaller, one-off programs as well.
The need for connected data was longstanding.
The solution
Easy-to-Use, Powerful Features
FormAssembly provides a secure, fully compliant data collection platform with the ability to create volunteer forms and grant forms quickly and easily. For a fast-moving, dynamic organization, this ability affords an enormous amount of opportunity. For the Oakland Public Education Fund, this capability translates into lives changed. Here are just a few of the FormAssembly tools and features that staff members love.
Dynamic Picklists
Recently, the organization upgraded to FormAssembly's Enterprise plan to fully leverage Dynamic Picklists. Before utilizing this feature, the team had to manage individual and constantly-changing Salesforce picklists, making edits form-by-form to ensure accuracy. Now, new choices are available in real-time without manual upkeep.
"It creates this alignment. With Dynamic Picklists, we can ensure that linking always happens and is always up-to-date," Nathan said.
Prefill Connector
FormAssembly's Prefill Connector allows Nathan and the team to disperse forms that intrinsically link to Salesforce upon submission. Once the form is generated, Nathan reports that "there is never a misalignment of data." This is one of the biggest advantages that FormAssembly provides.
Custom Coding
Nathan implements custom coding within FormAssembly to create custom landing pages. These pages are live web forms, but due to backend customization, they behave differently. Access is available through custom links. When an email is triggered to include a custom link, form respondents can check the status of activities like reimbursements and expense submissions.
" It creates this alignment. With Dynamic Picklists, we can ensure that linking always happens and is always up-to-date."
---
Use Cases
FormAssembly encourages predictable, systematized volunteer tracking and sign-up processes
The Oakland Public Education Fund has many uses for FormAssembly when it comes to volunteer forms, including an in-depth onboarding process when volunteers serve in more than one position or for an extended period of time. There are three different types of volunteer positions, including parent, community member, and career coach. Regardless of the type of volunteer, contact information and data flows straight to Salesforce. Upon initial application at the time of the first form, FormAssembly's Salesforce integration triggers a new form that requires a tuberculosis test approval.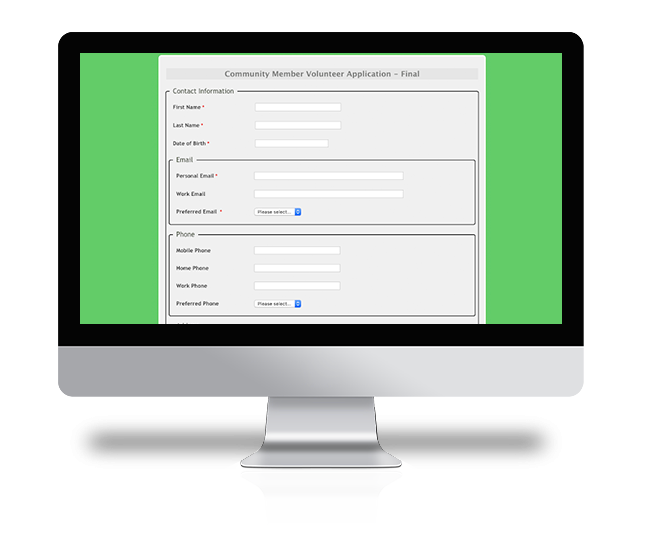 Form security and confidentiality are vital during the scholarship process
The A to Z Fund is a small funds grant program in which schools and teachers can apply for funding for very specific needs. The Ed Fund hosts this application process twice a year, which starts with an initial web form that creates a custom object in Salesforce after submission. The team is in the process of adding an additional form to the A to Z Grants process, which will serve as a grant agreement for the terms of each disbursement.
Intuitive web forms help manage the hiring process for multiple contractors and employees.
Hiring employees and contractors (including nearly 90 sub-contractors) is one of the main processes that the Ed Fund helps facilitate. When an organization wants to hire a contractor, a current staff member submits a FormAssembly form that initiates the hiring process. The process then makes use of lookups and connectors (including 4-5 forms total). Along the path to completion, there are branching choices and hidden equations that display unique information depending on whether the applicant is an employee or contractor. These steps help clarify the step-by-step hiring journey and make it easy to maintain organized records.
What's Next?
"Outside of the organization's primary donation platform, FormAssembly is the main forward-facing receptacle of information to Salesforce," Nathan said.
Future projects will include a complete revamp of the hiring toolkit currently in use for contractors and other employees. Staff will also implement small usability changes, including adding the ability to check the status of an application through a form. Lastly, Nathan plans to offer additional prefilled steps and repeatable changes, which will offer even more versatility and create a big impact.
Did you know that FormAssembly not only offers competitive prices, but also offers a discount to qualified nonprofit organizations?
Try the solution that nonprofit teams use every day to make massive changes on a local and global scale.
Get Your Nonprofit Discount
Don't just collect data — leverage it.